1 August 1759
Dear madam – The pursuit of the enemy, who have retired with the greatest precipitation, prevents me from giving you so exact an account of the late most glorious victory over the French army as I would, had I almost any leisure, however here goes as much as I can.
We marched from camp between 4 and 5 o'clock in the morning, about seven drew up in a valley, from thence marched about three hundred yards, when an eighteen pound ball came gently rolling up to us. Now began the most disagreeable march that I ever had in my life, for we advanced more than a quarter of a mile through a most furious fire from a most infernal battery of eighteen-pounders, which was at first upon our front, but as we proceeded, bore upon our flank, and at last upon our rear. It might be imagined, that this cannonade would render the regiments incapable of bearing the shock of unhurt troops drawn up long before on ground of their own choosing, but firmness and resolution will surmount almost any difficulty. When we got within about 100 yards of the enemy, a large body of French cavalry galloped boldly down upon us; these our men by reserving their fire until they came within thirty yards, immediately ruined, but not without receiving some injury from them, for they rode down two companies on the right of our regiment, wounded three officers, took one of them prisoner with our artillery Lieutenant, and whipped off the Tumbrells. This cost them dear for it forced many of them into our rear, on whom the men faced about and five of them did not return. These visitants being thus dismissed, without giving us a moment's time to recover the unavoidable disorder, down came upon us like lightning the glory of France in the persons of the Gens d'Armes. These we almost immediately dispersed without receiving hardly any mischief from the harmless creatures. We now discovered a large body of infantry consisting of seventeen regiments moving down directly on our flank in column, a very ugly situation; but Stewart's Regiment and ours wheeled, and showed them a front, which is a thing not to be expected from troops already twice attacked, but this must be placed to the credit of General Waldgravie and his aide-de-camp. We engaged this corps for about ten minutes, killed them a good many, and as the song says, 'the rest hen ran away'.
The next who made their appearance were some Regiments of the Grenadiers of France, as fine and terrible looking fellows as I ever saw. They stood us a tug, notwithstanding we beat them off to a distance, where they galded us much, they having rifled barrels, and our muskets would not reach them. To remedy this we advanced, they took the hint, and ran away. Now we were in hopes that we had done enough for one day's work, and that they would not disturb us more, but soon after a very large body of fresh infantry, the last resource of Contades, made the final attempt on us. With them we had a long but not very brisk engagement, at last made them retire almost out of reach, when the three English regiments of the rear line came up, and gave them one fire, which sent them off for good and all. But what is wonderful to tell, we ourselves after all this success at the very same time also retired, but indeed we did not then know that victory was ours. However we rallied, but all that could now be mustered was about 13 files private with our Colonel and four other officers one of which I was so fortunate to be. With this remnant we returned again to the charge, but to our unspeakable joy no opponents could be found. It is astonishing, that this victory was gained by six English regiments of foot, without their grenadiers, unsupported by cavalry or cannon, not even their own battalion guns, in the face of a dreadful battery so near as to tear them with grape-shot, against forty battalions and thirty-six squadrons, which is directly the quantity of the enemy which fell to their share.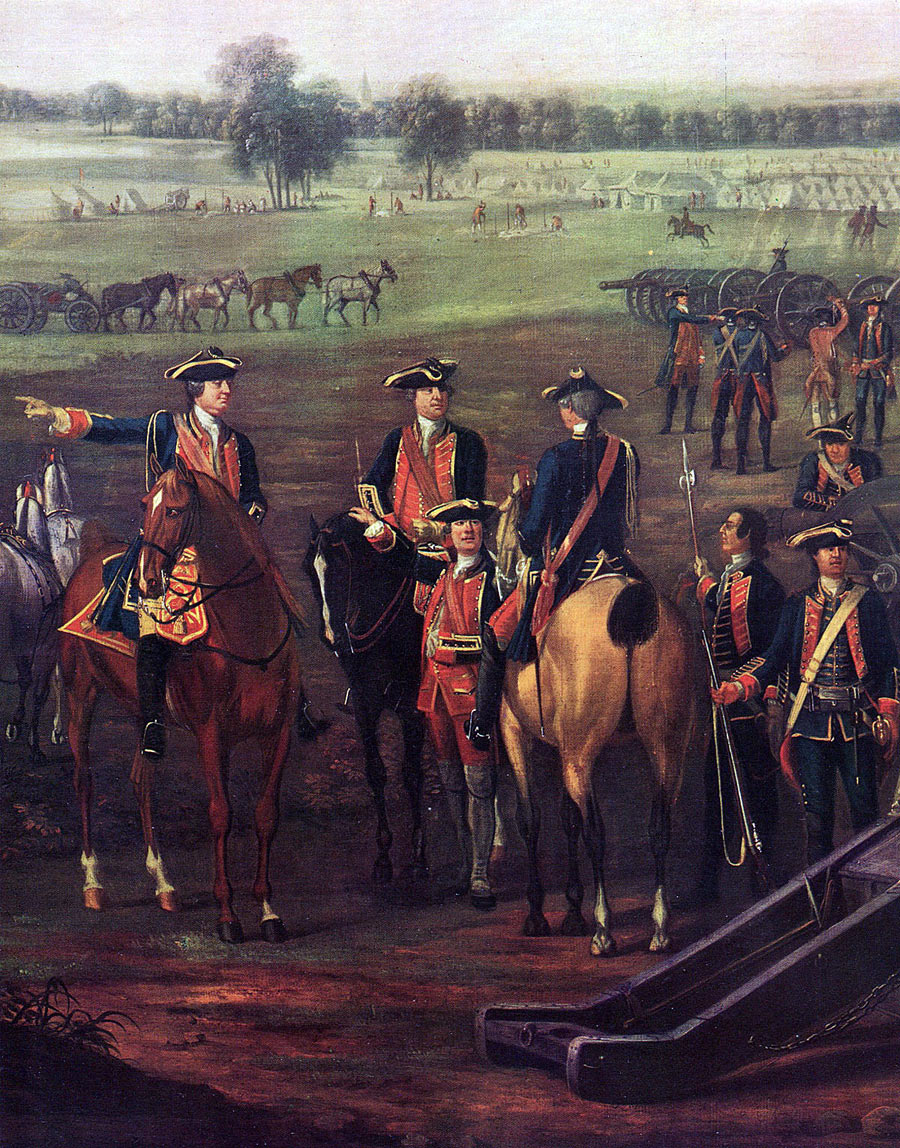 It is true that two Hanoverian regiments were engaged on the left of the English, but so inconsiderably as to lose only 50 men between them. On the left of the army the grenadiers, who now form a separate body, withstood a furious cannonade. Of the English there was only killed one captain and one sergeant; some Prussian dragoons were engaged and did good service. Our artillery which was stationed in different places, also behaved well, but the grand attack on which depended the fate of the day, fell to the lot of the six English regiments of foot. From this account the Prince might be accused of misconduct for trusting the issue of so great an event to so small a body, but this affair you will have soon enough explained to the disadvantage of a great men whose easy part, had it been properly acted, must hve occasioned to France one of the greatest overthrows it ever met with. The sufferings of our regiment will give you the best notion of the smartness of the action. We actually fought that day not more than 480 private and 27 officers, of the first 302 were killed and wounded, and of the latter 18. Three lieutenants were killed on the spot, the rest are only wounded, and all of them are in a good way except two. Of the officers who escaped there are only four who cannot show some marks of the enemy's good intentions, and as perhaps you may be desirous to know any little risks that I might have run, I will mention those of which I was sensible. At the beginning of the action I was almost knocked off my legs by my three right hand men, who were killed and drove against me by a cannon ball, the same ball also killed two men close to Ward, whose post was in the rear of my platoon, and in this place I will assure you that he behaved with the greatest bravery, which I suppose you will make known to his father and friends. Some time after I received from a spent ball just such a rap on my collar-bone as I have frequently from that once most dreadful weapon, your crooked-headed stick; it just welled and grew red enough to convince the neighbours that I was not fibbing when I mentioned it. I got another of these also on one of my legs, which gave me about as much pain, as would a tap of Miss Mathews's fan. The last and greatest misfortune of all fell to the share of my poor old coat for a musket ball entered into the right skirt of it and made three holes. I had almost forgot to tell you that my spontoon was shot through a little below my hand; this disabled it, but a French one now does duty in its room. The consequences of this affair are very great, we found by the papers, that the world began to give us up, and the French had swallowed us up in their imaginations. We have now pursued them above 100 miles with the advanced armies of the hereditary prince, Wanganheim, and Urff in our front, of whose success in taking prisoners and baggage, and receiving deserters, Francis Joy will give you a better account than I can at present. They are now entrenching themselves at Cassel, and you may depend on it they will not show us their faces again during this campaign.
I have the pleasure of being able to tell you that Captain Rainey is well; he is at present in advance with the Grenadiers plundering French baggage and taking prisoners. I would venture to give him forty ducats for his share of prize money.
I have now contrary to my expectations and in spite of many interruptions wrote you a long letter, this paper I have carried this week past in my pocket for the purpose, but could not attempt it before. We marched into this camp yesterday evening, and shall quit it early in the morning. I wrote you a note just informing you that I was well the day after the battle; I hope you will receive it in due time. Be pleased to give my most affectionte duty to my uncles and aunts…
The noise of the battle frightened our sutler's wife into labour the next morning. She was brought to bed of a son, and we have had him christened by the name of Ferdinand.[9]